How true is this story, really?
None of the photographs have been retouched. Everything you see really happened. Since David often photographs our daily life we have thousands of images like these.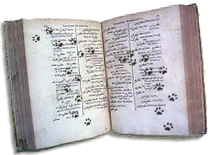 We reconstructed the cats' dialogue using an Ottoman-Feline lexicon dating from the reign of Sultan Ahmed III, which we found by happenstance in a second-hand book stall in Istanbul's Grand Bazaar. Inconsistencies in the translation reflect the illegibility of the lexicon, which is alas obscured by inky pawprints. 
How did you make the book?
The pictures are based on original photographs by David (with a few images by Claire). David did the illustrations. He used Comic Life to do the layout, to create the comic book effects, and to make the photographs feel like drawings. He used Photoshop for cutouts, coloring, and cleaning. Apart from this, the content of the photographs has not been altered at all.
Who's David?
David is a World Press Photo-award winning photojournalist. When he isn't rescuing kittens, he's usually looking for a demonstration or a war or sleeping off the post-traumatic stress from his last trip. He's now working on three long-term projects: a book about mass graves; an investigation into prosecutors who lock up innocent people; and a book about the evidence of crimes of war. His web site is www.mimetic.com.
Who's Claire?
Claire is a writer who fell in love with David and moved to Istanbul to be with him. When she's not rescuing kittens, she writes about spies and politics — or changes the litter box. She has published two spy novels and is currently working on a book about Margaret Thatcher. Her web site is claire.berlinski.com.
What kind of cameras did you use?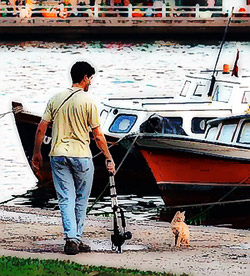 The black-and-white pictures were taken with both Leica and Canon film cameras. The color pictures were taken with professional Canon digital SLR cameras and various wide-angle lenses. Photos from the cats' point of view were taken by David with the camera on a tripod held upside down. Claire's pictures were taken with a Canon PowerShot 3-megapixel point-and-shoot digital camera (it works very well for this kind of photo-illustration).